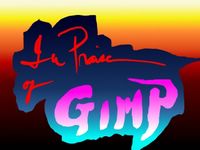 GIMP is a powerful open-source (free) graphics software which, some have argued, is comparable to Photoshop -- a $649-a-pop glitzy production widely used by pros. GIMP has many fans, and lately I've added myself to that list. People have complained about GIMP's user interfaces, but I personally haven't encountered any major obstacles; on the other hand, I'm nowhere near being a "deep user", so my views on the debate don't really carry that much weight.
Quite a few graphics you see on this site were created with GIMP (others with another fantastic free software called "ArtRage"); for instance, the one used in this post was created by me in about half an hour. I'm having too much fun to stop.
GIMP can be downloaded at www.gimp.org. Do read the installation instruction carefully, especially if you're a Microsoft Windows user.